14" Foldable Electric bike is built to travel effortlessly through the city, trails, and around the neighborhood. Choose the way you ride with the hybrid cycling mode that offers pedal-assist or throttle control. Get to your destination quickly and avoid traffic jams. Always enjoy the scenery to your destination and ride up to a speed of 15mph and reach a distance of 19 to 24.8 miles per charge. Conveniently recharge the battery on the frame or off the frame by simply removing it in seconds. 
UL2271 Certified 36V/10Ah Battery together with a 250W Brushless Motor can boost the bike to 15.5mph within seconds and last for a maximum range of 27.9 miles with pedal assist.
Dual Disc Braking System, High-Beam LED Headlight, Illuminated Warning Tail Light ensures safe rides no matter day or night.
Light and Portable: The foldable design and Aluminum Alloy Frame allow riders to easily carry the E-bike anywhere they want.
Load Capacity: Up to 264 lbs
Customer Reviews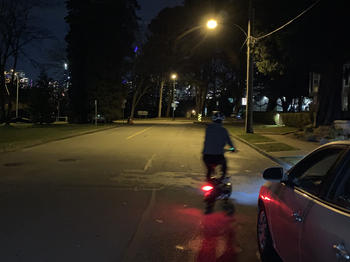 04/02/2021
Great bike, easy to assemble
It was my first time to try e-bike. I took steps as inspect tires and brake, ride bike with power turned off, turned power on and operate. One thing came to my mind was if the weight is half (11kg), it would be much more great to use.
SUNG H.

Canada
03/02/2021
Haven't received
I would love to give you guys a review, however, the item has not been received. I do not have the info in the tracking information.
Don T.

Canada
13/01/2021
Xprit 14"
I have not road tested it yet as there in snow on the road. Already I like it because of easy assembly, this has a throttle, no pedaling required. Also it has foldable pedals for fast storage and a battery that can be replaced by a universal one,(not an expensive custom one.$$$) I will add comments in the Spring
Hank H.

Canada
21/10/2020
Great choice
Perfect for getting to and from work for me. Easy to store due to the small size and the assembly video was very helpful would recommend this product
Jr

United States
23/09/2020
Very easy to install and highly adjustable
Got it from Amazon, well packed, easy to install, light weight but powerful. Love the rear rack to put a basket for heavy backpack for school
Charlie

United States